Mighty Auto Parts Franchise Training & Support
We Help You Drive Your Future
Mighty delivers on its training promises. We take a hands-on approach with every franchise partner, making sure they receive the support and tools they need for their Mighty business to reach its maximum potential.
In order to run their businesses as effectively and efficiently as possible, we provide our Mighty franchise partners, general managers, and salespeople with both classroom and on-site field training. We also assi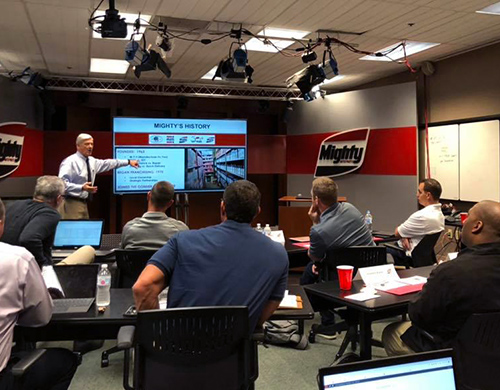 gn each franchise Sales and Operations Liaisons who personally attend to the needs of every partner. For your customers, the professional automotive service providers, we offer technical support and training programs to encourage their business growth, resulting in more loyalty to you.
When you join Mighty, our automotive franchise team will support you with:
Initial warehouse set-up and implementation
Operations training that helps you run your Mighty business
IT training and support
Sales training
Mighty University online classes
Product knowledge and application
Customer in-store training and technician clinics
National and regional meetings to share best practices with other Mighty franchise owners
You're not just offered training when you are "new." Our corporate offices provide centralized support throughout the life of your ownership. We communicate with Mighty franchise partners through a private intranet and send our "Mighty email" every week. This keeps everyone informed of new programs, products, and support tools. Mighty also produces short, informative videos – shared on a regular basis – that include interviews and best practices from Mighty staff, franchise partners, and salespeople around the country.
The goals of our training are to help our franchise partners and each of their employees remain committed to quality, to understand all of the Mighty programs, to help them sell our products and programs, and to take advantage of all of our many tools, promotions, incentives, and resources.
Mighty Auto Parts is proud to provide the training and support that our franchise partners need to build their businesses in their individual territories. In order to remain competitive in the industry, we continually adapt to meet the changing needs of our franchisees' markets and the more than 280-million-vehicle fleet in the United States.
Fill out our contact form to learn more — no obligation, just more information on how Mighty Auto Parts can work for you.